Stoke Bishop
Full time
Hourly Rate: £1,439.75 per month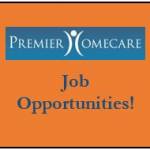 Website Premier Homecare Limited
Highly regarded by health and social care professionals, Premier Homecare have been providing the highest quality care in Bristol to people wishing to remain in their own homes, for the past 16 years.
All care assistant travel time is fully paid / all care visits are a 1 hour minimum duration.
Hours: 37.5hrs per week
"How lovely to be a newbie, and see how sweet and caring everyone is, it makes a massive difference to each and everyone's future should the help be needed, its a pleasure working for such a caring charming professional company, and as much as I may be a bit scatty, its a pleasure to learn from the most caring professionals and lovely people possible, its a massive career change for me, but wish I had done it sooner, everyone who works for Premier truly are decent people as well as staff, and just wanted to say each and everyone of you are spot on..! …so I just want to say thank you to everyone …its truly appreciated…many thanks! M.Xx".MH 2020
This New Year, do you wish you could go home, at the end of the day, feeling good about yourself & satisfied you've made a difference?
Your role will quite simply be to provide care & kindness to older people wanting support to remain in their own home…the kind of things most of us take for granted, such as washing, dressing, preparing meals, shopping, keeping our homes clean, help to taking medication and most important of all, friendship.
You don't necessarily need any experience or qualifications to join us as a Homecare Support Worker – We'll be delighted to provide you with all the training, care experience & support you need.
Premier Homecare believes in unrushed care visits which is why each visit is at least one hour long, enabling you quality time with your client so you can get to know them and care in a way that matters to them.
Premier is also one of the very few Homecare Companies in Bristol to offer fully Guaranteed salaries for our care workers – meaning you are paid fully for your contracted 7.5  hour shift from start to finish.
Mileage is paid at 45p per mile.
What's it like working for us? :
" A truly caring, professional and responsive company. I am happy to work for".
"…an amazing company & wonderful team".
"Its lovely to work with such a supportive team! All the best for this year!".(Some current employee Premier Homecare Instagram posts).
You will need a car; also, our care visiting area means it's easier for you if you live in the North area of Bristol.
Our Guaranteed Hours positions are full-time and include a combination of:
7am – 3pm  shifts
3pm – 11pm  shifts
 Alternate weekends
All shifts are 7.5hrs long… no 12 hour shifts
How is Premier Homecare different to Other Care Providers? :
All Travel Time between visits is paid AT YOUR FULL HOURLY RATE! – your pay is not confined to client contact times
All Visits are 1 hour or more in length meaning more care time & less travel time
Shadowing, which is fully paid, is for a period of 2 weeks meaning lots of support and important confidence-building for you!
We pay 45p per mile towards your petrol cost
Your DBS Police check is free
The 1st Bristol Home Care Company rated 'OUTSTANDING' by the Care Quality Commission!
A great, caring company with a great & caring reputation!
Discount perks at many stores and attractions
Please apply now via The Proud To Care site 
OR contact us on 01179592013 if you would like to know a little more…we'll be more than happy to chat with you
Currently taking applications for a January 2021 / February 2021 start.
Qualifications:
No qualifications needed - Full care training will be provided
Provider Details:
The first Bristol Homecare Provider to be rated 'Outstanding' overall by the Care Quality Commission (CQC).
Premier Homecare is strongly committed to supporting & valuing our staff.
Feedback from new & existing staff suggest our training and ongoing care staff support is second to none
About you:
You must be kind, caring and patient with a passion for working with the elderly.
You must be a car owner and driver.
You must have an excellent reliability and attendance record.
Ideally you'll be living in the north area of Bristol since this is the area where we deliver care.
New Starter Benefits:
Free uniform
Paid DBS check
Paid induction
Is this a home care job?:
Paid Mileage to cover your fuel costs
Paid travel time between calls