Henbury and Brentry
Full time
Part time
Hourly Rate: Up to £10.00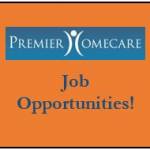 Website Premier Homecare Limited
Is it time to start feeling good about yourself, going home at the end of your days work feeling valued & satisfied you've made a difference?
• 1 Hour Minimum Visits - No short Visits
• All Travel Time is Fully Paid
Your role will quite simply be to provide care & kindness to older people wanting support to remain in their own home…the kind of things most of us take for granted, such as washing, dressing, preparing meals, shopping, keeping our homes clean, help to taking medication and most important of all, friendship.
Premier Homecare believes in unrushed care visits which is why each visit is at least one hour long, enabling you quality time with your client so you can get to know them and care in a way that matters to them.
Premier Homecare is also one of the very few Homecare Companies in Bristol to PAY YOU FOR ALL OF YOUR TRAVEL TIME AT YOUR FULL HOURLY RATE between all of your client visits. Mileage is paid on top of this at 45p per mile.
What's it like working for us?:
" A truly caring, professional and responsive company. I am happy to work for".
"…an amazing company & wonderful team".
"Its lovely to work with such a supportive team! All the best for this year!".(Some current employee Premier Homecare Instagram posts).
Full & Part-time hours are available which include start times of:
·         7am for daytime shifts
·         3pm for afternoon / evening shifts
·         Ideally, availability to work alternate weekends
How is Premier Homecare Different To Other Care Providers?
·         All Travel Time between visits is paid at the full hourly rate, PLUS mileage allowance of 45p on top
·         All Visits are 1 hour or more in length meaning more care time & less travel time
·         Shadowing, which is paid, is for a period of 2 weeks meaning lots of support and important confidence-building for you!
·         We pay 45p per mile towards your petrol cost
·         ADDITIONAL Holiday pay worth £750.00 – £1000.00 per year
·         Your DBS Police check is free
·         The 1st Bristol Home Care Company rated 'OUTSTANDING' by the Care Quality Commission!
·         A great, caring company with a great & caring reputation!
Qualifications:
You don't necessarily need any experience or qualifications to join us as a Homecare Support Worker - but perhaps you've cared for an elderly relative or friend and know you have what it takes...?
We'll be delighted to provide you with all the training, care experience & support you need.
Provider Details:
The first Bristol Homecare Company to be rated overall 'Outstanding' by the CQC.
A Nurse-Led and family-run Company, providing care in Bristol for the past 17years, care excellence is at the heart of our Organisation.
About you:
You'll have a huge heart and a desire to help others; you'll need your own car and ideally you'll live in the North area of Bristol...that's it! - The rest is our responsibility.
We will make sure you are fully-equipped and trained to provide the very best of care to people.
New Starter Benefits:
Free uniform
Paid DBS check
Paid induction
Is this a home care job?:
Paid Mileage to cover your fuel costs
Paid travel time between calls