Westbury-on-Trym and Henleaze
Flexible hours
Hourly Rate: £10.54 per hour, plus bank and weekend enhancements where applicable.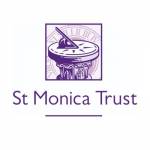 St Monica Trust
Our Care and Support Workers tell us the best bit of their job is the satisfaction of making our residents smile. Whatever the needs of the resident, our priority is to ensure they maintain control, choice and dignity at all times.
Bank. As and when required.
The role helps our residents with the practical things like getting in and out of bed, dressing, bathing and hygiene, food preparation and cleaning. You'll enjoy building a rapport with our residents, sharing stories and offering them emotional support when they need it.
You will be a great team working with strong time management skills – you will need to record residents' progress and follow care plans.
Duties:
To deliver a high standard of care whilst maintaining individuals' independence at all times.
Assisting with service users hygiene by delivering personal care.
Assisting with service users'/ residents' mobility including the use of hoists, handling equipment, walking aids and wheelchairs.
Assisting service users/ residents with their nutritional requirements including providing help at mealtimes.
Assisting service users with shopping and other activities which may require working off-site.
Encouraging and facilitating social and spiritual activities.
Adherence to St. Monica Trust policies and procedures especially with regard to manual handling, health & safety and hygiene.
Respect the confidentiality of knowledge and information at all times.
Formulate, review and maintain service users' care plans.
Maintain service user/ resident records.
Provider Details:
The St Monica Trust is a Bristol-based charity with a reputation for providing high quality accommodation and innovative care for older people. The Trust employs over 1,200 staff to ensure that they give the best support possible to those living in their retirement communities and care homes. In addition, the Trust's Community Fund distributes funds and support to individuals, families and organisations across the region to help tackle issues that affect the lives of older people.
About you:
To protect your health and safety and the health and safety of our colleagues and the people we support, appointment to this role is conditional upon you having received a complete course of the COVID-19 vaccine unless medically exempt.
New Starter Benefits:
Paid DBS check
Paid induction