Please select an area:
Flexible hours
Full time
Part time
Hourly Rate: £TBC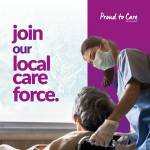 Various providers across the 3 Local Authorities
Do you want to help your community in a time of crisis?
We are urgently seeking to recruit Residential Care and Home Care Workers across Bristol, North Somerset and South Gloucestershire. The contribution of all our home care and care home workers in these challenging times will be forever appreciated.
Succeeding in a Care Worker role isn't about qualifications. It's about having the right attitude and desire to make a difference.
To apply, simply email your answers to the questions below, it is not essential for you to answer yes to the questions for your application to be successful, but we do need answers to all questions to proceed with your application. Please provide as much detail as possible.
– Do you have Health and Social Care experience?
– Do you have any restrictions to working hours?
– Do you have a current DBS check?
– Do you have a valid UK driving licence and access to transport?
– Your expression of where you would like to be based, in either a Residential Care or Home Care setting.
– Your home postcode, e-mail and contact number.
Our Proud to Care teams will link applicants to local opportunities and local providers will then contact you to progress your application.
Following an application the care provider will contact you and this will be the opportunity to ask any questions/concerns you may have about working in the care sector during COVID19. Alternatively, you are able to visit the Government website for the latest updates and guidance.

By submitting your personal data you are giving us your consent to process the information and data as this is essential for us as local authorities to share with our care providers to fulfil the recruitment functions and meet legal requirements.
Please note – Benefits amongst providers may vary.
A benefit for all Care Workers:
The Care Workforce is a dedicated app for care workers which has been launched to support care workers through the COVID-19 pandemic.
• Get access to guidance, learning resources, discounts and other support all in one place.
• Support will be offered on mental health and wellbeing through toolkits and resources.
• Learn how to take advantage of offers available to you, including free car parking and discounts through organisations and initiatives like Discounts for Carers and the Blue Light Card.
The app is available to download now from the App Store and Google Play.
New Starter Benefits:
Free uniform
Paid DBS check
Paid induction
Is this a home care job?:
Paid Mileage to cover your fuel costs
Paid travel time between calls