Westbury-on-Trym and Henleaze
Flexible hours
Hourly Rate: £10.54 per hour plus bank enhancement. £11.54 per hour including Night enhancement.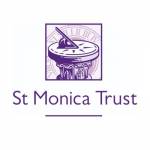 St Monica Trust
Working in our residents' homes within our sheltered housing accommodation, we tailor care packages to meet their individual needs.
At St Monica Trust, our Care and Support Workers are highly valued by our residents. They help with the day to practical things like getting in and out of bed, dressing, bathing and hygiene.  This can range from 15 minutes per week to more frequent daily help. Whatever the needs of the resident, our priority is to ensure they maintain control, choice and dignity at all times.
You will be a great team working with strong time management skills – you will need to record residents' progress and follow care plans.
Bank day or night opportunities available.
Qualifications:
To protect your health and safety and the health and safety of our colleagues and the people we support, appointment to this role is conditional upon you having received a complete course of the COVID-19 vaccine unless medically exempt.
Provider Details:
The St Monica Trust is a Bristol-based charity with a reputation for providing high quality accommodation and innovative care for older people. The Trust employs over 1,200 staff to ensure that they give the best support possible to those living in their retirement communities and care homes. In addition, the Trust's Community Fund distributes funds and support to individuals, families and organisations across the region to help tackle issues that affect the lives of older people.
About you:
Naturally you'll be a people's person, able to strike up conversation and have a positive and professional communication style. Dignity, respect, honesty, care and trust are our values at St Monica Trust – and you'll be able to demonstrate your commitment to them.
It's not essential to have gained experience within a care environment but you will be able to undertake the practical duties associated with personal care. You'll be able to assess individuals' needs, produce written reports and follow instructions.
New Starter Benefits:
Paid DBS check
Paid induction