Please select an area:
Flexible hours
Hourly Rate: £9.28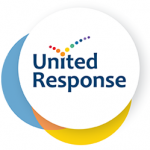 Website United Response
As a Relief Support Worker not only will you get immense job satisfaction and be part of an organisation that takes care of it's staff but also:
- Pension contribution
- Access to free occupational health, physiotherapy, counselling and advice services
- Fully paid training and access to nationally recognised qualifications
- Travel to work scheme (season ticket loan)
- Access to an online shopping platform with discounts from over 3,500 retailers
Location: North Bristol
Flexible Hours
Are you looking for a way to help others that works around you?
How about a job where you are given huge development and progression opportunities?
United Response is hiring!
United Response is a leading national disability charity and we are looking for compassionate individuals to join our supported living services in Bristol as Relief Support Workers.
Here at United Response we passionately believe in supporting people with learning disabilities, physical disabilities, autism and mental health needs. With the help of Relief Support Workers who share in our core values, the people we support in Bristol are able to live full and sociable lives that involve interacting in the community without barriers.
What would you be doing?
– Assisting with jobs around the house
– Teaching and developing life skills
– Encouraging the people we support to access the community
– Accompanying on trips and leisure activities
– Dealing with some behaviours that challenge
– Personal care
– Taking an interest in the lives of the people we support
Provider Details:
Our mission is to ensure that individuals with learning disabilities, mental or physical support needs have the opportunity to live their lives to the full.
Founded in 1973 with just one service in West Sussex, we now support around 3,000 people, work in over 300 locations across England and Wales and employ over 4,000 staff.
Our values underpin everything we do as an organisation and we actively recruit by matching potential applicants to these values.
We believe that people with disabilities are equal participants in society and should have the same rights and opportunities as everyone else. This is the vision we work towards and the reason we exist.
About you:
Previous experience as a Relief Support Worker role is not essential but an awareness of learning disabilities and challenging behaviours is. What is most important is that you are an empathetic, resilient and robust individual with a genuine passion for supporting others. Having the ability to think on your feet is an important skill for this role as it means that you will be able to adapt to the needs of the people you are supporting.
New Starter Benefits:
Paid DBS check
Paid induction