Please select an area:
Flexible hours
Hourly Rate: £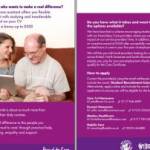 Care 1st homecare, Kumari Homecare, Medacs Healthcare and Nobilis Care
Are you a student who wants to make a real difference?
Being a part-time care assistant offers you flexible working hours to fit with studying and transferable skills that look good on your CV and you can earn a bonus up to £500.
Working in a care role is about so much more than helping people with their daily routines.
You can make a real difference to the people you support by being 'proud to care' through practical help, conversation, listening, empathy and support.
Do you have what it takes and want to consider the options available?
We have launched a scheme encouraging students to work with our Domiciliary Care providers where you can make a real impact on our service providers' lives. In addition, we are offering an incentive award of £500 after successfully completing 250 worked hours in care in your first year of employment.
We will link you with local providers looking for care assistants across Bristol, North Somerset and South Gloucestershire who will employ you, pay for your pre-employment checks and train you to qualify for the Care Certificate.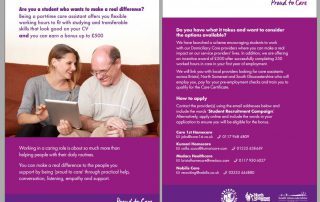 For a clear picture flyer please click on the below link:
Proud to Care UWE Flyer Feb 2020
How to apply:
Contact the providers(s) using the email addresses below and include the words "Student Recruitment campaign'.
Alternatively, apply online and include the words in your application to ensure you will be eligible for the bonus.
•Care 1st homecare
jobs@care-1st.co.uk
0117 968 4809
•Kumari Homecare
csilla.szucs@kumaricare.com
01225 428449
•Medacs Healthcare
bristolhomecare@medacs.com
0117 950 6027
•Nobilis Care
recruiting@nobilis.co.uk
03333 444880